We have been building beautiful, functional bathrooms that add value to your home for almost 20 years. As bathroom specialists, we offer expert advice at every stage of planning, designing and building your new bathroom.
What Do You Want for Your Bathroom Remodeling?
Ready for a change, but not sure where to start in your bathroom reno? If guidance is what you need, consider these questions our experts ask during a pre-design process: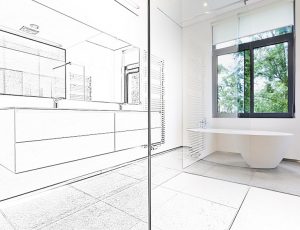 Are you looking for more space?
Do you need more storage in your bathroom?
Do you prefer natural light, or luxurious light fixtures?
What kind of design do you prefer: contemporary, modern, rustic, or something else?
Does your bathroom need added function (shower, larger bathtub, added sinks)?
By getting answers to these questions, you can start narrowing down what exactly you want in a dream bathroom. And to ensure you get exactly what you're looking for in a new bathroom remodeling, Toronto House Renovation Group will apply our unique process to ensure we meet your every need. Bathroom reno
The Benefits of Bathroom Remodeling
Aesthetic appeal. You deserve to enjoy every single inch of your home, and the bathroom is often looked to as a place to escape, or get a bit of privacy in our busy lives. Make your bathroom into the gorgeous getaway you've always dreamed of by pursuing a bathroom remodeling services! bathroom reno
Added function. Too few sinks, a small tub, an outdated shower: these are all common complaints we encounter during an initial planning for bathroom design. A bathroom must be functional, or it might as well not be there at all. bathroom remodeling
Increased comfort. Whether you're adding space to move or need more storage, it's important to transform your bathroom into a comfortable one rather than a cramped one. A remodel is an opportunity to build the space you want, not the space you're stuck with.
Higher home value. A new bathroom design can drastically increase the value of your home, often adding thousands to the total worth of your property.
Perfect Design and Build Services for Your Bathroom Reno
When you're looking to renovate, you don't want just any design build contractor to work on your project. You want the best! You search for and hire a team that carries all of the experience, knowledge, and cutting-edge equipment needed to create the ideal space you've always wanted for your home.